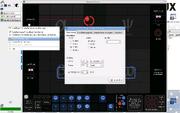 Foto / ScreenShot shows my SpaceChem playing screen on my Knoppix-Linux, please see my profile-page for details.
Foto / ScreenShot zeigt meinen SpaceChem SpielBildschirm auf meinem Knoppix-Linux. Für Details, bitte schau auf meine ProfilSeite meine Profil-Seite. — — — Betinowi (talk) 11:49, February 20, 2016 (UTC)
.
Ad blocker interference detected!
Wikia is a free-to-use site that makes money from advertising. We have a modified experience for viewers using ad blockers

Wikia is not accessible if you've made further modifications. Remove the custom ad blocker rule(s) and the page will load as expected.